More Rave And Romance - Album 2LP Vinyl
€

33.00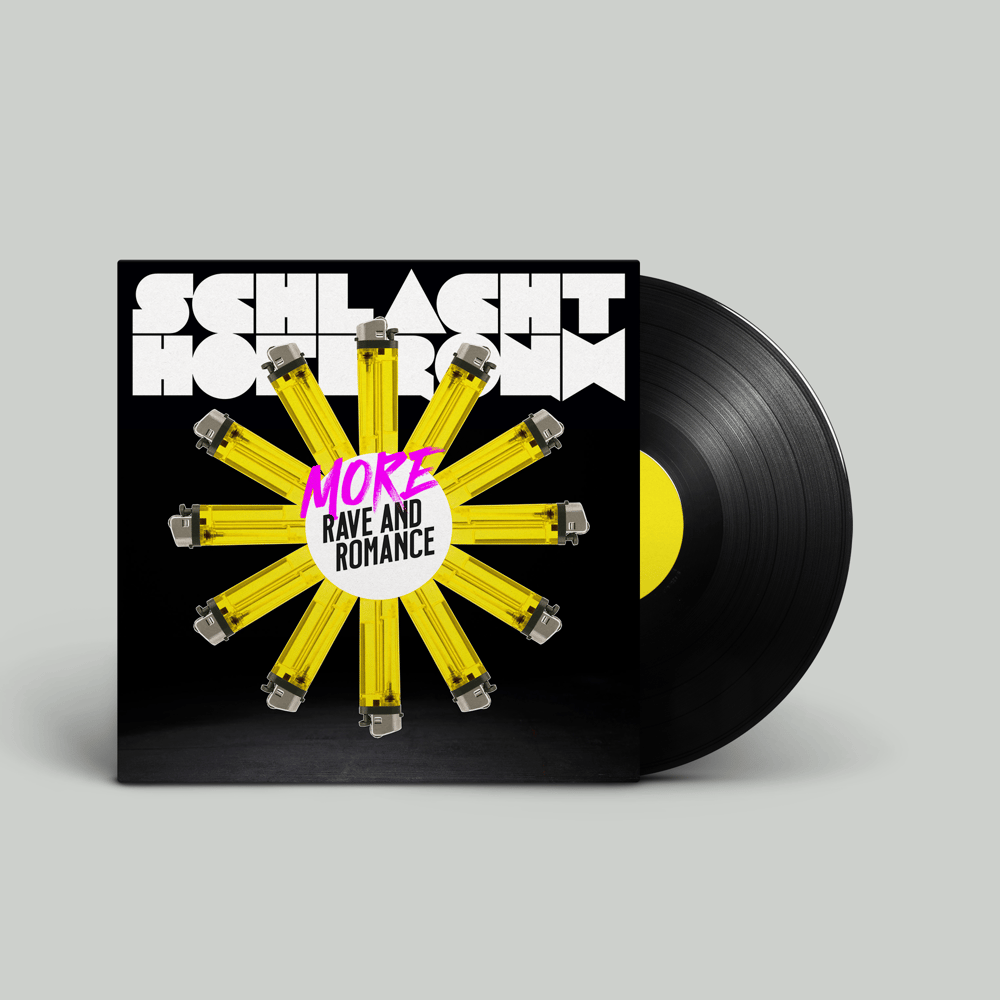 This is an extra heavy-weight double vinyl version of our new album. Black vinyl, absolutely beautiful cover (we splurged on extra neon print color, pls do appreciate lol) and it runs on 45 RPM.
Yes, it includes a full download code for the whole album!
Plus we always put nuff stickers etc in every order.
Schlachthofbronx is back with a new album, bringing us all MORE RAVE AND ROMANCE. As ever, the electronic production duo from Munich playfully switches between genres, tempos & moods and delivers a selection of tracks that is a testament to their no-bullshit approach in exploring bass and club music that defies genre (and algorithm) limits and instead focuses on having fun & keeping your body moving. On the way, they connect the dots between - among other things - Grime, Techno, Bounce, Dancehall and Soca and dish out high class hit features with international genre-stalwarts like Flowdan, Lady Lykez, Nicky Da B and more. But true to their Rave And Romance motto, they also include the occasional saucy slow jam with the upcoming Eliza Legzdina in this rollercoaster of energy, showcasing their versatility from fast paced club workouts to intimate song structures, from sweaty basements to sweaty bedrooms - from rave to romance!
With this highly international album with feature guests from Jamaica, Saint Lucia, Denmark, Latvia and of course the UK & USA, Jakob and Bene are continuing their explorations of all things club music that is heavily rooted in soundsystem culture, which propelled them to touring worldwide between Mexico and India, between Uganda and Bavaria, between Notting Hill Carnival trucks and Oktoberfest tents. Always working & connecting directly with the local club communities, they recontextualize myriads of club genres on their releases for labels like Mixpak, Mad Decent and Monkeytown as well as working with big artists like Snoop Dogg, Major Lazer or M.I.A. along the way.
+++ ATTENTION +++
As of request, we also added some "autograph on record" options!
(please specify what we should write on it in the Paypal comment or via separate Email to [email protected] - if not we will just tag SCHLACHTHOFBRONX on it!)
We ship with regular mail or DHL "Päckchen" (no tracking) as it is much cheaper, especially internationally. (Yes, shipping vinyl in 2023 is a bit of a mess LOL)
if you do need tracked shipping with DHL, please contact us via [email protected] and we'll sort you out, no problem.
We do use the normal cardboard vinyl boxes so the vinyl is safe, truss mi daddy.
Availability
Normal Record (2x12 inch Vinyl)

Record plus Autograph on it
Share